Terlebih rajin pulak harini. Smp 2 entry buat haaa. Oke ni nak share link gambar ni or known as
flickr
. Kenapa dgn flickr? Owhhh dulu sgt hebat dgn photographer2 tak kire pro ke amateur ke sume up gmbr kat situ. Kalau takde acc flickr mmg tak sah la. Selain flickr, ade jgk fotopages. Tapi tak ramai suke guna. Ade la beberapa constraint disitu. Blogspot pun ade....wordpress pun ado. Tp yg skrg lagi super duper glamour adalah mukabuku aka Facebook.
Baru harini aku belek2 flickr aku ni....dannnnn aku terperasan ade link utk tgk Photo Exif. Amender photo exif tu....go figure la ek. Hehehe....shame on me je. Pasai nyerrrrrrr org lain dah discover mende ni bertahun2. Aku....baru sat2 nih. Oke2....mmg ade org ckp, infact en don pun ade ckp purpose of photographer pilih flickr sbb ade exif. Tp sbb aku bukan golongan photographer makanyeeee 'ade aku kesah' dan skrg baru nak kesah bukan pasai dah masuk golongan itu tetapppiii aku impress gile kot. Exif nyer adalah SANGAT DETAIL oke. Yess yes...my bad....my bad....
Sebagai contoh...aku kasik gmbr ni...click dkt picture and link straight away to flickr exif page.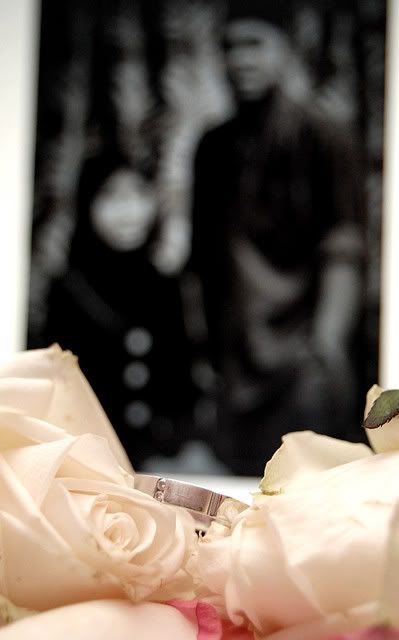 Gmbr adalah testing sahaja. Jgn kontroversi aku dah bertunang ye. That's my very own ring. Dah calar balar dah tu. Latar belakang gambar...itu gmbr time raya. Ade 2 jenis gmbr...kalau rajin cuba belek lagi
flickr
aku tu.
Masuk balik topik asai....dah tgk exif td? Literally the picture was edited by me. Kdg2 bile sesuatu yg telah diedit, exif akan hilang. Tp hok dkt flickr ni siap buh lagi aku edit pakai software ape. Dan exif asal tak ilang pun. Eh ye ke...ye la kottt. Haaa...kat situ la aku kagum sikit. Aku edit part exposure kot. Light tak cukup maka gmbr asal ade sikit gelap ikut mata aku. Even dah guna flash pun. Dan satu lagik...bilik cat kaler gelap. Lagi la dim je kan.
Dulu aku rajin jgk belek2 gmbr dkt flickr nih. Ade a few photog yg aku akan tgk. Tp tak penah cek exif. Mungkin lepas2 ni la kot. Cek exif ni adalah salah satu cara pembelajaran yang agak efektif jgk. But it depends on you.
Ok dah laaa...tu je ;)